This is the figure that started my collection of Batman figures. The 89 Batman with Michael Keaton and Jack Nicholson was my all time favorite Batman movie so it was a no brainer to start my collection with a figure inspired by that movie. So here it is my, DX08 from Hot Toys! Let's get right into what you will get.
Packaging - 5/5
If you know anything about Hot Toys they have some of the best packaging around for their figures. Below will be some pictures of how my DX08 came packaged. Please note I bought mine used, that is why there are scuffs on the box.
Sculpting & Paint - 5/5
Getting a closer look at this figure there is no doubt as to who this character is modeled after. Both the sculpting and the paint are spot on to likeness of Jack Nicholson. Below will be a few picture illustrating that as well as a comparison picture of Jack Nicholson so you can see how accurate the details are in this figure.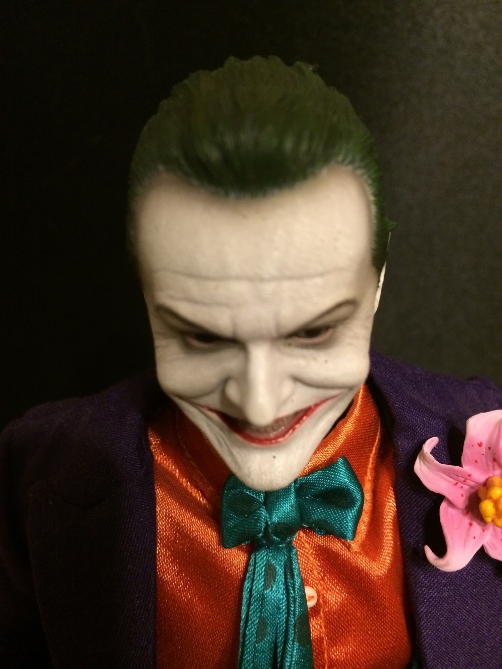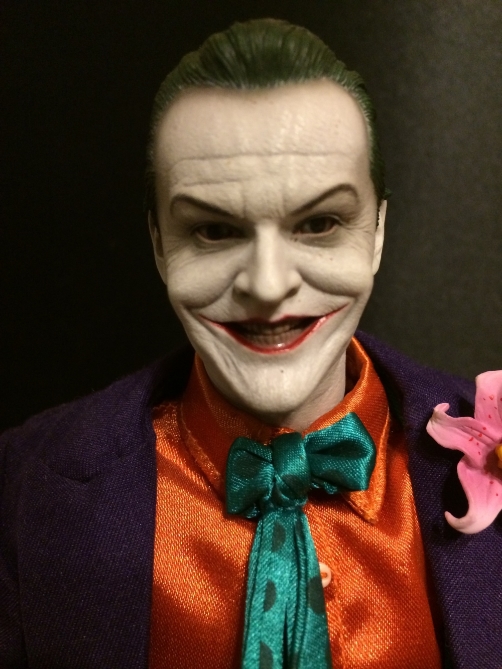 Accessories & Outfit - 5/5
The accessories are what set this figure over the top. From a Joker playing card to Joker stacks of cash. The gas mask and chattering teeth they all are done and made in great detail.
Articulation - 4/5
This figure has many points of articulation from head, hands, legs even his eyes move. The only knock here for me was some of the points of articulation particularly in the wrists are pretty fragile. This is addressed however because they include these extra joints in the package. With all this being said its a display piece. Not something you're getting out to play with, you pose it and display it. Included in this section is the stand that comes with the figure. The stand includes an LED you can power on to shine up on your figure.
Value - 3/5
Value is tough because Hot Toys are not cheap. This figure was $249.99 at launch I believe and right now valued at over $300. There are sites you can visit where you might be able to find a good deal but watch out for shipping because the packaging is so large the shipping costs turns a deal for $250 to one that's close to $300.
Overall - 5/5
All I can say is that this figure is amazing the detail in the sculpt down to the details of all the accessories. You can't go wrong with any Hot Toys figures out there and pending the resent shipping issues I'll have another figure to review for you soon.
Do any of you have Hot Toys figures? What do you think of them?
Posted by: Joe @thee.social.nerd